The Dependable Englewood Plumber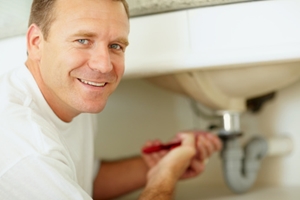 RMW Plumbing Services has been providing quality, professional plumbing services to both homeowners and commercial clients since 1993. We've developed a reputation in that time as the most trusted and reliable plumbers in the area. Our Englewood plumbers consistently provide our clients with the highest quality plumbing repairs, maintenance, and installations possible. We know how important your plumbing is to you and your family, and to your home. So we don't take these repairs lightly. We'll do whatever it takes to make sure that your plumbing is in the best condition possible. We'll be ready to tackle any plumbing job at all, no matter how large or small it is.
All of our plumbers are licensed and certified, professionally trained, and highly experienced. So no matter what job you need to have done, we can guarantee your satisfaction with our work. We'll accurately diagnose any problems, and we'll thoroughly repair them. We're also aware that these repairs can be a huge disruption in your life, so we'll complete the repairs as quickly possible. However, we'll never sacrifice quality work for speed.
Call us today with any questions you have about the services we provide, or to schedule your appointment.
Englewood Drain Cleaning
When it comes to the plumbing system of your home, very few things are as important as having clean drains. Drains are the foundation of your entire plumbing system, so when they have a problem, it won't be long until you see more problems cropping up. Often, the problems that do crop up are taken care of without the drains ever being considered. Which means you'll see the problems again and again, and more and more damage will be done until you're left with a complicated, expensive repair that needs to be done.
Our Englewood plumbers know the importance of your drains, and they'll be able to quickly diagnose problems that have their roots in your draining system. We'll clean the drains thoroughly and professionally to ensure your plumbing system is running at peak conditions. We also suggest regular drain cleanings to keep problems from starting, instead of waiting until you can see the effects, which can make repairs more expensive.
Englewood Water Heater Repair
Your water is one the biggest sources of convenience in your home. And when something goes wrong with it, there's no bigger inconvenience. Regular maintenance and repair of your water heater will ensure you don't encounter big problems with your water heater later on, which means you won't have to go long without hot water.
Water heaters usually only last about ten years. Our plumbers in Englewood, CO will make sure that your water heater lasts as long as possible by giving it the proper maintenance and repairs it needs in order to last. Our Englewood water heater repair experts can address any problems you currently have so that your water heater is as efficient is it can be, and we'll take any preventative measure we can to make sure no bigger problems occur in the future. If it's time to replace your water heater, we'll find the perfect model for your home, as well as your budget.
If you are looking for a dependable Englewood plumber then please call 303-681-3400 or complete our online request form.