Are You Looking for a Parker Plumber?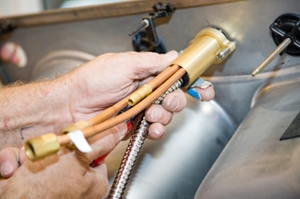 You and your family depend on your home for comfort and security. And your plumbing system is one of the main ways that comfort is provided by your home. When you have any problems with your plumbing system, however, it can quickly turn into a huge source of frustration. When you need any part of your plumbing worked on or repaired, you need a Parker plumber who you know you can trust with the work.
The professional plumbers at RMW Plumbing Services have years of experience, and we've been dedicated since we were founded to making sure that we exceed the expectations of every one of our customers. We're always ready to ensure that you get the highest quality plumbing work possible, and we'll always provide upfront, honest, and accurate pricing.
Our Parker plumbers are all licensed, professionally trained, and extensively experienced. They're all thoroughly background checked, and we also drug test them before they're hired. So we can guarantee that you'll have a professional plumbing company in Parker, CO you can trust completing the job you need. We'll always respect your home and your family, and we'll always clean up after ourselves—of course. Our goal is your complete satisfaction, and we'll do whatever it takes to reach it.
Call us today with any questions you have about our services, or to schedule your appointment, and we'll be looking forward to adding you to our long list of satisfied customers.
Parker Plumbing Company
As a plumbing company, we know that we're only as good as the employees who help you. So we make sure that all of our employees are experienced and professional plumbing specialists. Whether you need a leaky faucet repaired, a routine tune-up of your water heater, or complex sewer repairs or sewer line replacement, our professional plumbers in Parker, CO will be ready to make sure you're receiving the best possible workmanship. We'll talk with you in understandable terms about every job we perform, so you'll never be left in the dark about the work we're doing. And we'll leave all major decisions up to you.
Plumbers with less experience often have trouble diagnosing plumbing problems. Often, this means that they'll only repair the most obvious issues, and won't get close to solving the root problems. Our plumbers will always provide you with accurate, thorough diagnoses and plumbing repairs in Parker, CO. So you won't see the same issues continue to occur over and over again after they've supposedly been repaired.
Parker Drain Cleaning
Sewer lines eventually will get backed up or clogged by debris, build-up or sediment, or plant roots, and this will cause problems with your entire plumbing system. In the worst case, you can experience back-flow, which can pollute your entire water supply, making it unsafe to use or drink. In the best-case scenario, your water flow will be disrupted and you'll have complications with all of your plumbing fixtures. And those best cases turn into worst cases very quickly.
Our Parker plumbers have the most advanced tools and the professional procedures it takes to diagnose these sewage problems and find exactly where they stem from, and we'll also be able to decide on the most efficient way to get rid of the problem. From drain cleaning to sewer line repiping in Parker, our experienced team of professionals have the tools and skills necessary to get the job done right.
If you are looking for a dependable Parker plumber then please call 303-681-3400 or complete our online request form.