Installing and Repairing Garbage Disposals in Arapahoe & Douglas County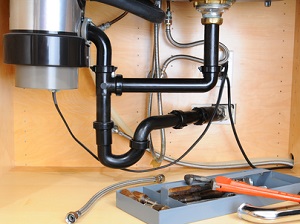 Garbage disposals are a very convenient part of any kitchen, and once you've gotten used to living with them, it can be difficult to imagine what you did before. Not only do they make life easier, but they help to keep your kitchen cleaner and more free of germs and bacteria. At RMW Plumbing Services, our professionals can provide you with high quality installations, repairs, or maintenance services for garbage disposals in Arapahoe County and Douglas County, and we'll do whatever it takes to keep your garbage disposal totally functional at all times.
Garbage Disposals in Arapahoe & Douglas County
Sink garbage disposal units, sometimes called waster disposers, are typically powered by electricity and installed beneath your kitchen sink between the drain and a "trap". The trap collects and shreds food waste into pieces small enough to pass through your home plumbing system. Because of the mechanical aspects of this process, there's a strong chance that plumbing problems can occur with your garbage disposal. If you notice problems with your garbage disposal, contact our plumbers and we'll be able to quickly and accurately determine the cause of the problem and solve it quickly and professionally.
Garbage Disposal Installation
If your home does not currently have a garbage disposal, our plumbers can help you select and install a new disposal. We can retrofit the garbage disposal to your sink, and we'll be able to help you select the perfect models and brands of garbage disposal for your kitchen and your home. We can also help you replace any garbage disposal that has stopped working or is ineffective.
Steps to Take When You Have Problems with Your Garbage Disposal
There are a few things that you should be able to do on your own when you find any problems with your garbage disposal.
For instance, if your disposal has any strange or offensive odors, you may be able to clean it to solve the problem. These steps offer a simple way to clean your garbage disposal:
Grind ice cubes and orange, lemon, or lime rinds in the disposal for about 30 seconds.
Pour a small amount of liquid dish detergent into the disposal while it is still running.
Rinse any remaining debris by running cold water for about 30 seconds.
If your garbage disposal stops working, there is a strong chance that you'll need to contact a professional plumber to have the problem taken care of. Before you call a professional, you may want to check the reset button.
The garbage disposal has an overload protector that senses when the motor is overheating and shuts it off. If your garbage disposal stops working abruptly during use, this is most likely your problem, and it's thankfully one with an easy fix. Your next moves should be:
Turn the disposal switch off.
Do not put your hands or objects down the drain.
Make sure the appliance is plugged in securely at the outlet.
With the power switch turned off, press the reset switch. You should be able to it on the from or bottom of the garbage disposal.
Turn the garbage disposal back on and test.
If these simple solutions do not take care of the problems you're experiencing, contact our Douglas County plumbing services professionals for thorough and accurate garbage disposal repairs.
If you need garbage disposal repairs or installation in Arapahoe or Douglas County, please call 303-681-3400 or complete our online request form.
Recent Articles
Essential Benefits Of Sump Pumps -Ask any professional who lives in an area that uses them, one of the most important plumbing services available is the sump pump. Just like what it sounds, sump pumps are installed in the basement or underground space and pump water. The point of this is to prevent flooding and even keep this lower level as dry as possible by redirecting existing water to the nearest storm drain … Read More
What's Making Your Faucet Drip (And What You Can Do About It) - Dripping or leaking faucets can be irritating and frustrating, and there's a chance that they signify other problems are occurring with your pipes or plumbing. If your faucet drips when it's turned off, the problem could be stemming from a number of different of issues, and you can benefit greatly from taking care of the problem as early on as possible. The leak could be being caused by corroded pipes, defective gaskets, mineral deposits, or … Read More