Installation and Repair of Water Heaters in Arapahoe & Douglas County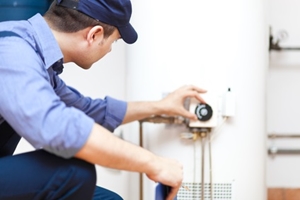 Your home's water heater is a crucial part of the comfort and cleanliness you want and need from your home. When you have any problems with you water heater, it can be detrimental to the comfort of you and your family. The team at RMW plumbing services is always here to help our customers with water heaters in Arapahoe County and Douglas County.
Some problems that water heaters in the Douglas County and Arapahoe County areas commonly face can be repaired easily, but there are others that can require intensive repairs, or even a hot water heater replacement. If you notice any problems with your water temperature, call the plumbers at RMW Plumbing Services for prompt, professional service. We'll be able to thoroughly and accurately repair the problem, and we also provide maintenance services to help you keep your water heater effective and efficient at all times.
Water Heater Replacement & Maintenance
Replacing your old water heater with a newer and more efficient model can significantly improve your home's comfort and also lower your utility costs.
Whether you need regular maintenance or a complete replacement, our Douglas County water heater repair specialists will be able to handle every part of the job. All of our plumbers are knowledgeable experts who can help you determine the best who will be able to help you develop a maintenance plan for your water heater, or help you choose the best water heater for your home and your budget.
We also recommend that you have your water heater tuned up at least once each year. Tune-ups are a great form of preventative maintenance, and they can help you reduce the amount of repairs that your water heater needs. They'll also help to increase the lifespan of your water heater.
Water Heater Not Producing Hot Water?
First, check to make sure that the pilot light is lit. Do not attempt to light an electronic ignition system. If the pilot light won't relight, contact our professionals immediately. If the pilot light is light, turn on your hot water tap and let it run for a few minutes. If the burner does not come on, the problem could be a defective control valve/thermostat. Make sure the control valve knob is set to "on" and not set to "pilot".
For electric water heaters:
The first thing you should do is ensure that the breakers are on. If they are, the problem is likely a bad upper-element or thermostat. It's extremely unsafe to attempt to repair your electric water heater on your own, so you should call our professionals to have an inspection and water heater repairs in Arapahoe or Douglas County.
Our Douglas County plumbing services team will be able to troubleshoot and identify problems with your water heater quickly and professionally. Call us today for prompt and dependable water heater repairs in the Arapahoe or Douglas County areas.
If you need water heater repairs or installation in Arapahoe or Douglas County, please call 303-681-3400 or complete our online request form.
Recent Articles
Essential Benefits Of Sump Pumps -Ask any professional who lives in an area that uses them, one of the most important plumbing services available is the sump pump. Just like what it sounds, sump pumps are installed in the basement or underground space and pump water. The point of this is to prevent flooding and even keep this lower level as dry as possible by redirecting existing water to the nearest storm drain … Read More
What's Making Your Faucet Drip (And What You Can Do About It) - Dripping or leaking faucets can be irritating and frustrating, and there's a chance that they signify other problems are occurring with your pipes or plumbing. If your faucet drips when it's turned off, the problem could be stemming from a number of different of issues, and you can benefit greatly from taking care of the problem as early on as possible. The leak could be being caused by corroded pipes, defective gaskets, mineral deposits, or … Read More