Repiping in Arapahoe & Douglas County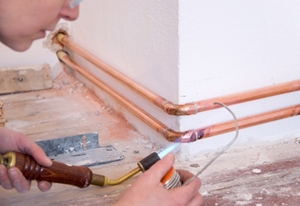 If the water or sewer pipes in your home need to be replaced with a newer and more reliable piping system, you can rely on the professional plumbers at RMW Plumbing Services for quality workmanship. As pipes age, they will go through a regular amount of wear and tear, and that can lead to wide range of different problems. Many problems that you encounter with your pipes can be repaired, but you'll eventually need to have your home's pipes replaced. When that time comes, you can depend on our team for professional water or sewer line repiping in Arapahoe County and Douglas County.
Call us today if you've noticed problems with your plumbing and our professionals will help you determine the best course of action for your piping system. We can always provide you with any pipe repairs that you need, and we'll be able to replace the pipes when the time comes. We are the preferred choice for these type of plumbing services in Arapahoe County and Douglas County.
Pipe Repairs vs. Pipe Replacements
Many pipe problems can be taken care of with repairs that are much simpler than replacing pipe systems. Clogs in your pipes can be taken care of by our professionals with thorough cleaning services, and leaks can usually be detected and repaired with minimal effort.
After your pipe system starts to have problems frequently, replacing the pipes can be the most cost-effective option. If you have an older home with galvanized steel or polybutylene pipes, you should have those pipes replaced as soon as possible. Replacing them with pipes made of more reliable materials can potentially prevent sever damage to your home.
Pipe Replacement Warning Signs
If your pipes start to show any of the following signs, contact our plumbers to have your pipe system inspected and begin the pipe replacement process if necessary:
As pipes get older, they experience more and more problems, and eventually, repairing them won't be a worthwhile investment. Brass pipes last typically last 700-100 years, copper pipes last for around 50 years, and galvanized steel pipes last for around 50-75 years. Homeowners commonly have galvanized pipes replaced with copper pipes during repiping in Arapahoe and Douglas County.
Rust can cause detrimental problems for your home's pipes. Rust will quickly spread throughout your pipe system, so the longer you wait to have your pipes replaced, the more of your piping system will need to be replaced.
Low water pressure is a strong sign that there is a problem with your piping system. You may be able to solve the problems with cleaning or minor pipe repairs, but there's also a chance that the pipes need to be replaced.
If you would like an estimate for repiping in Arapahoe or Douglas County, please call 303-681-3400 or complete our online request form.
Recent Articles
Essential Benefits Of Sump Pumps -Ask any professional who lives in an area that uses them, one of the most important plumbing services available is the sump pump. Just like what it sounds, sump pumps are installed in the basement or underground space and pump water. The point of this is to prevent flooding and even keep this lower level as dry as possible by redirecting existing water to the nearest storm drain … Read More
What's Making Your Faucet Drip (And What You Can Do About It) - Dripping or leaking faucets can be irritating and frustrating, and there's a chance that they signify other problems are occurring with your pipes or plumbing. If your faucet drips when it's turned off, the problem could be stemming from a number of different of issues, and you can benefit greatly from taking care of the problem as early on as possible. The leak could be being caused by corroded pipes, defective gaskets, mineral deposits, or … Read More