Preventing, Thawing, and Repairing Frozen Pipes in Arapahoe & Douglas County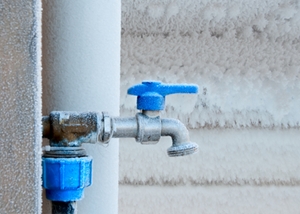 Water freezing in your pipes can cause problems with water flow to and from your plumbing fixtures, but that's only the beginning of the problems. Frozen water in your pipes can also cause pipes to bust, and that can easily lead to flooding n your home. It's very important that you have frozen pipes in Arapahoe County and Douglas County thawed as soon as possible, and the professional plumbers at RMW Plumbing Services can provide you with prompt, professional frozen pipe repair services whenever you need them.
Our professionals will work hard to prevent mold and repair and other secondary water damage that your home sustains after a pipe bursts. If you have chronic problems with frozen pipes, our plumbers will help you solve them to prevent expensive repairs in the future.
If you have chronic issues with frozen pipes, currently have frozen pipes, or have flooding or water damage as a result of frozen pipes in the Douglas or Arapahoe County areas, call us immediately and get the help you need.
Preventing Frozen Pipes in Arapahoe & Douglas County
The best way to take care of problems with frozen pipes is to prevent them from occurring. Most people know that they should leave their sinks running when the temperatures are dropping below freezing, but that isn't always a sufficient solution. If your pipes do freeze and burst, the damage can be detrimental and devastating, so prevention is key.
Our plumbers can perform a full cold weather plumbing inspection on your home to find any vulnerable spots and make sure your pipes are properly insulated. We'll give your home plumbing system the protection it needs from cold weather. Call us today for frozen pipe prevention solutions as well as any pipe repairs you may need in the Arapahoe and Douglas County areas.
Frozen Pipe Thawing Services
If your pipes have frozen, call the plumbers at RMW Plumbing Services and we'll be ready to assist you as soon as possible. We'll give you upfront pricing, and we'll make sure that the problem is properly diagnosed, before thawing your pipes and making sure the problem is thoroughly solved.
Our emergency plumbing repair team will respond immediately to your call and will be on site as quickly as possible. We can then identify the exact portion of the frozen pipe that needs to be thawed, and we have the skills and equipment necessary to repair your pipes promptly and professionally.
Having our professional plumbers on call in case of a frozen pipe emergency is the best insurance you can give your home or business. You can always rest assured that we are available for all your frozen pipe prevention and repair needs. After all, we are the local experts when it comes to frozen pipe related plumbing services in Arapahoe County and Douglas County.
If you have frozen pipes in Arapahoe or Douglas County, please call 303-681-3400 or complete our online request form.
Recent Articles
Essential Benefits Of Sump Pumps -Ask any professional who lives in an area that uses them, one of the most important plumbing services available is the sump pump. Just like what it sounds, sump pumps are installed in the basement or underground space and pump water. The point of this is to prevent flooding and even keep this lower level as dry as possible by redirecting existing water to the nearest storm drain … Read More
What's Making Your Faucet Drip (And What You Can Do About It) - Dripping or leaking faucets can be irritating and frustrating, and there's a chance that they signify other problems are occurring with your pipes or plumbing. If your faucet drips when it's turned off, the problem could be stemming from a number of different of issues, and you can benefit greatly from taking care of the problem as early on as possible. The leak could be being caused by corroded pipes, defective gaskets, mineral deposits, or … Read More