The Source for Basement Sump Pumps in Arapahoe & Douglas County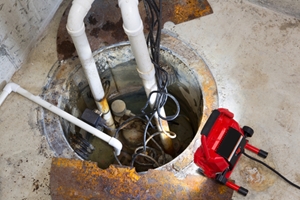 Sump pumps are an extremely important part of keeping your home protected from natural disasters and water damage. These devices have built-in sensors that detect water flow in homes. When water reaches the sensor, the pump is activated and it pushes that water away from your home, preventing flooding and moisture damage. At RMW Plumbing Services, our plumbers have extensive training and experience working with all types of sump pumps in Arapahoe County and Douglas County.
We can provide you with any sump pump installation, repairs, or maintenance services that you need. Our plumbers will be ready and eager to to help you keep your home and your basement properly protected against flooding and water damage whenever you need our assistance.
Preventing Basement Flooding With Sump Pumps in Arapahoe & Douglas County
Most of the basement flooding that occurs is due to groundwater build-up. The ground beneath your home becomes more and more saturated with water, and that water will eventually seep in through the cracks in your home's foundation. This can lead to plumbing problems, as well as serious damage to your property than can decrease its value.
Installing a sump pump is a simple, effective way to stop water intrusion before it causes damage to your basement or to your home's foundation. Our Douglas and Arapahoe County plumbing services professionals can work with you to find the best brand and model of sump pump for your home, and we can provide you with a high quality installation.
Choosing a Sump Pump for your Home
There are a variety of sump pumps in the Arapahoe and Douglas County area for your to choose from; but not all of these basement pumps are right for your home. When you're deciding on the right sump pump to have installed in your home, there are a few factors that you should consider:
Space
Appearance
Cost
Repair and maintenance needs
Local weather patterns
If you have a finished basement, the appearance of your sump pump can be a crucial factor. Sump pumps are not designed to be attractive, so many homeowners are interested in finding sump pumps that won't stick out or attract attention. Our plumbers can help you find sump pumps that won't detract from the design of your basement.
You should also consider the different features that sump pumps include. Sump pumps detect water intrusion in different ways, and you should discuss these options with your plumber. Our professionals will be happy to discuss your new sump pump's features with you that you know you're making an informed decision.
If you already have a sump pump installed, but it doesn't seem to be working correctly, give us a call. Our team provides some of the best sump pump repairs in the area. You can depend on us for an honest evaluation of your basement's sump pump as well as the appropriate course of action for fixing whatever problems you may be having with the device or basement flooding.
If you would like an estimate for sump pumps in Arapahoe or Douglas County, please call 303-681-3400 or complete our online request form.
Recent Articles
Essential Benefits Of Sump Pumps -Ask any professional who lives in an area that uses them, one of the most important plumbing services available is the sump pump. Just like what it sounds, sump pumps are installed in the basement or underground space and pump water. The point of this is to prevent flooding and even keep this lower level as dry as possible by redirecting existing water to the nearest storm drain … Read More
What's Making Your Faucet Drip (And What You Can Do About It) - Dripping or leaking faucets can be irritating and frustrating, and there's a chance that they signify other problems are occurring with your pipes or plumbing. If your faucet drips when it's turned off, the problem could be stemming from a number of different of issues, and you can benefit greatly from taking care of the problem as early on as possible. The leak could be being caused by corroded pipes, defective gaskets, mineral deposits, or … Read More