Dependable Plumbing Repairs in Arapahoe & Douglas County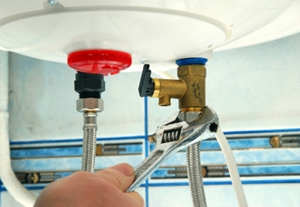 Your plumbing system is a very important part of the comfort that you and your family rely on from your home. When you have any problems with your plumbing, you need a professional you know you can trust for quality repairs. It's not always easy to find a trustworthy plumber. When you rely on the professionals at RMW Plumbing Services, we'll guarantee excellent plumbing repairs in Arapahoe County and Douglas County. Our plumbers have extensive experience, and we'll always be able to accurately diagnose and repair any problems that you encounter.
It's very important that any plumbing repairs you receive are as high quality as possible. While an inexperienced plumber may not end up flooding your home, it is likely that they'll only repair the most obvious and apparent symptoms and leave the root cause of the issues untreated. This means that you'll see the same problems cropping up again and again, and they'll get much worse over time.
Our professionals will always ensure that the repairs we perform are totally thorough and accurate, and we'll do whatever it takes to keep your plumbing system in the best condition possible.
Quality Plumbing Repairs in Arapahoe & Douglas County When You Need Them
Whether you have a leaky faucet of a busted pipe, you can always rely on us for high quality plumbing repairs whenever you need them. We can repair any part of your plumbing system, and we'll be ready and eager to assist you whenever you need plumbing services in Arapahoe County or Douglas County.
The plumbing repairs we provide include:
Water Heater Repairs
Drain Cleaning
Plumbing Fixture Repairs
Frozen Pipe Repairs
Gas Leak Repair
Pipe Repairs
Plumbing Fixture, Toilet, & Faucet Repairs
When any of your home's plumbing fixtures are damaged or worn out, it can make your home less comfortable, and it can be very frustrating. If any of your plumbing fixtures have significant problems, you may not be able to use your bathroom or kitchen in even the most basic ways. Our plumbers can make sure that your plumbing fixtures are always in the best condition possible.
If your plumbing fixtures can't be repairs, our plumbers can also replace them. Our only goal is to keep your home's plumbing system in the best condition possible, and your plumbing fixtures are the most important part of that.
If you need plumbing repairs in Arapahoe or Douglas County, please call 303-681-3400 or complete our online request form.
Recent Articles
Essential Benefits Of Sump Pumps -Ask any professional who lives in an area that uses them, one of the most important plumbing services available is the sump pump. Just like what it sounds, sump pumps are installed in the basement or underground space and pump water. The point of this is to prevent flooding and even keep this lower level as dry as possible by redirecting existing water to the nearest storm drain … Read More
What's Making Your Faucet Drip (And What You Can Do About It) - Dripping or leaking faucets can be irritating and frustrating, and there's a chance that they signify other problems are occurring with your pipes or plumbing. If your faucet drips when it's turned off, the problem could be stemming from a number of different of issues, and you can benefit greatly from taking care of the problem as early on as possible. The leak could be being caused by corroded pipes, defective gaskets, mineral deposits, or … Read More